When disaster strikes, owners are often left with few options to care for their animals.
Our local teams work with trusted area organizations to get feed in the hands of the owners who need it most. We're here to help with everything from hurricanes to barn fires.
Helping those impacted by Hurricane Florence
To support the communities and animals affected by Hurricane Florence, the Nutrena brand is currently collecting financial donations to purchase feed that will be shipped to the areas in need. They'll be shipped to dedicated drop points and used to help the thousands of animals displaced by the storm. Please visit your local Nutrena retailer for more information on how you can help.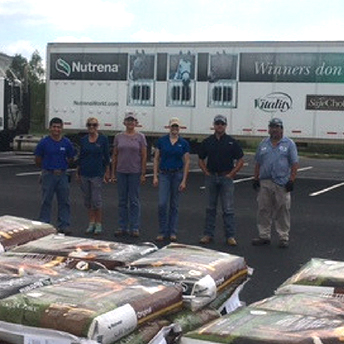 Relief for animals in the Gulf Coast after Hurricane Harvey
In the summer of 2017, Hurricane Harvey overwhelmed the Gulf Coast. Our sales team partnered with the Veterinary Emergency Team and Agricultural Extension in Texas to deliver over 260 tons of pet food and feed to seven drop points in affected areas.
Donations were helped out by concerned individuals from around the country as part of our national feed drive. People all over America made monetary donations at their local retailers. The retailers then put those donations toward our feed drive, helping bring some help to the Gulf Coast.
Partnering to donate and deliver feed in the wake of Hurricane Irma
When Hurricane Irma hit the southeast in 2017, our Nutrena sales team acted with the help of multiple organizations in each state to deliver truckloads of feed to the affected areas. And people from all over America helped out as part of our nation-wide feed drive. People made monetary donations at their local retailers, and the retailers put that money toward our feed.
Feeding hungry animal evacuees during California wildfires
Historically destructive wildfires ravaged the northern California countryside in the summer of 2017. People and animals were evacuated before the encroaching fires got too close. Some animals were evacuated along with their owners, others were released from barns and corrals in haste because of the advancing flames.
Many animals were taken to the Solano County Fairgrounds, which acted as a temporary shelter. The on-site staff indicated to us that there were hundreds of horses in need of supplies. Our team in Stockton, California, quickly put together an emergency 24-ton delivery of feeds for the animals temporarily sheltered at the Solano County Fairgrounds. We're proud of them for stepping up support for their community in a time of great need.